What is Ecchi and how does it differ from hentai pornographic content?
Ecchi and hentai have a long history of being associated together, although their content is quite different. If hentai can at least stand on his own as a unique type of pornographic content this so not the case for ecchi content. We are here to tackle what ecchi actually is and how it differs from hentai content.
The word Ecchi (エッチ) is used in Japanese to define something that is naughty or dirty. It may also be used as slang for sexual fantasies but the term is employed as an adjective. If you have watched anime in Japanese, you have probably already heard a character say "ecchi" in a disdainful tone. That is because the word is commonly used in comedy anime as a form of punchline for characters.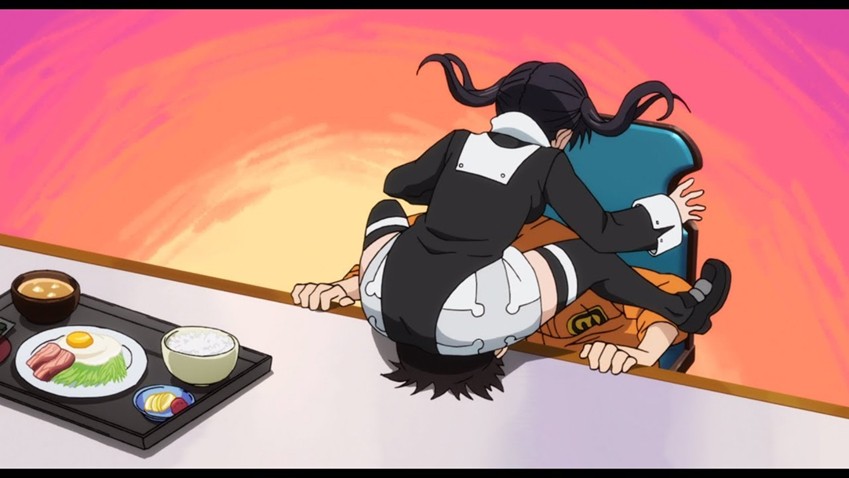 A classic fanservice moment with the clumsy Tamaki. She always seems to end up in weird lewd positions with the main character of
Fire Force
(2019).
Lets picture it in this very very common scenario that takes place in anime. A clumsy female character trips as she is walking next to the main character of the show. In a dramatic but also funny way, she falls on him. He ends up on the ground with his hand on her breasts while she sits on him in an awkward and questionable position. Furious she gets up and smacks him walking rapidly away yelling, "Ecchi! Baka! Aho!" This scenario is also very relevant to showcase the sort of anime that ecchi is. More than a simple word, ecchi is used as a full on genre for anime shows! Let's explore this genre and see how it differs from hentai content.
What is ecchi?
As we mentioned before, the terminology of ecchi refers to "sexy" or "naughty" and is used as a genre for anime and manga. The term does not differ strongly from the terminology of the word hentai. As we explored in our main article on the subject, Hentai usually means "perverse" or "deprave". In fact, both terms reference to some extent the lewdness of a scenario. That being said, ecchi is a Japanese word that is less provocative and harsh than hentai. This represents properly the nature of the content since ecchi content is a lot tamer than hentai.
In terms of genre, ecchi is used to describe anime or manga that feature erotic or sexually suggestive content. More specifically, these shows will have a theme that focuses on the sexual humour and fan service, rather than the plot. Yes there might be an underlying story with high stakes where, for instance, the world is in danger. A hero must come to the rescue and save the day, but this aspect usually comes secondary to lewdness. The genre is made specifically to arouse viewers while also having a story that is more fledged out than one of an hentai.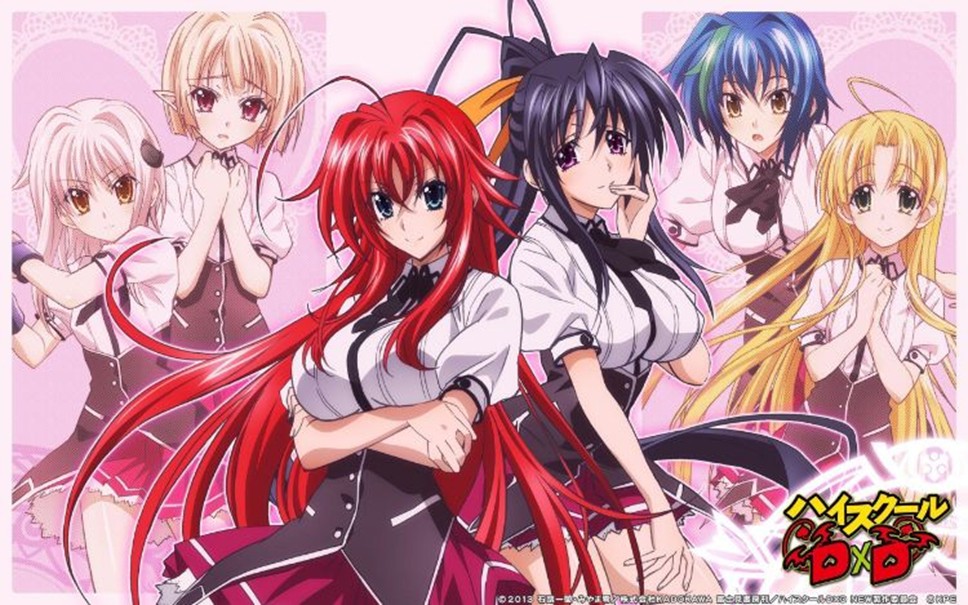 Main characters of one of the lewdest and most popular ecchi anime there is call Highschool DxD
Nevertheless, intercourses are never fully displayed in these shows. Ecchi does contain nudity and is aimed at an adult public but there will never be full intercourse on display. Instead, full-fledged sexuality is replaced with fanservice moments. Interestingly, these moments are much less prominent in hentai content than ecchi shows. To properly understand why this is the case, we need to define what fanservice means and how it functions in the ecchi genre.
What is fanservice and why is it important for ecchi shows
The term "fan service" is the more common one, but "service" is used more often in the manga and anime community. Fanservice is a Japanese term that refers to content that is created specifically for the purpose of pleasing the audience. It can be anything from a simple show of skin to a full-fledged sexy scenario. That being said, it is usually something that is not essential to the story and is only aimed to please.
An example of fan service could be the classic accident mentioned previously where the character falls in a weird suggestive position. Another example can be the focus on oppai culture which we explore more in depth in our article on the subject. Other popular fanservice moments are usually suggestive about sexuality or show skins. The classic clothes breaking during fights showing the skin and sometimes even the breast of characters. One of the female characters is making a movement where her breast break the laws of gravity and giggle uncontrollably. A quick shot of the panties of a character because of a random draft of wind. A character eating something that she likes so much she flushes red and steams comes out of her mouth. All of these examples are just a few situations you might see in various popular ecchi shows.
Fanservice can be used to make a story more exciting or to appeal to a certain demographic. It can also be used to make a story more "mature" and oriented toward adults. This may be done by adding elements that would normally be considered inappropriate for younger audiences. It can also be used to add humour to a story or to make a character more likable. These lewd funny moments may be used as comical plot points for the story. However, these moments of fan service are often used in a way that is not appropriate for the story. In these cases, these moments usually appear out of thin hair to excite viewers. This sort of fan service is usually a lot more prominent in ecchi shows.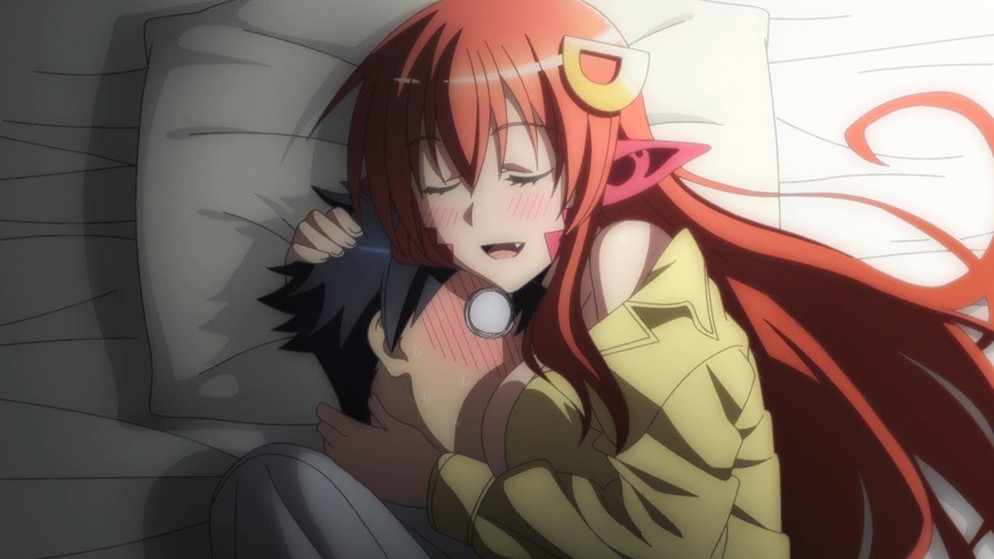 Main character getting into a lewd scenario by accident with Miia in the anime Monster Musume (2015)
Other ecchi shows prefer to be serious while introducing fan service as a secondary aspect of the show. These animes tend to have a more serious tone will erotic aspect is still showcased as a secondary plot point. Freeze is a good example of such anime featuring fan service as a secondary aspect. It tends to feature a serious plot while characters' clothing gets ripped off showing them half naked. This sort of accidental lewdness is also used quite a lot in ecchi anime.
Difference Between ecchi and hentai
While ecchi anime use fanservice to create sexy scenarios and please their viewers, hentai has a different tone. Ecchi often displays nudity as a sort of escalation to various situations. They want viewers to say, "Oh what will happen? Will we see her panties? Maybe her breast? Will they kiss?" That being said, in most cases nothing comes from the sexiness of the situation. Yes characters may moan, blush or even have bit more physical contact but this won't lead to a sexual relationship. In fact, most ecchi content won't even have characters kissing! For this reason, this genre often prides itself on never actually giving its viewers what they want. This may even be more frustrating for viewers since they may wish that characters would go further in their action.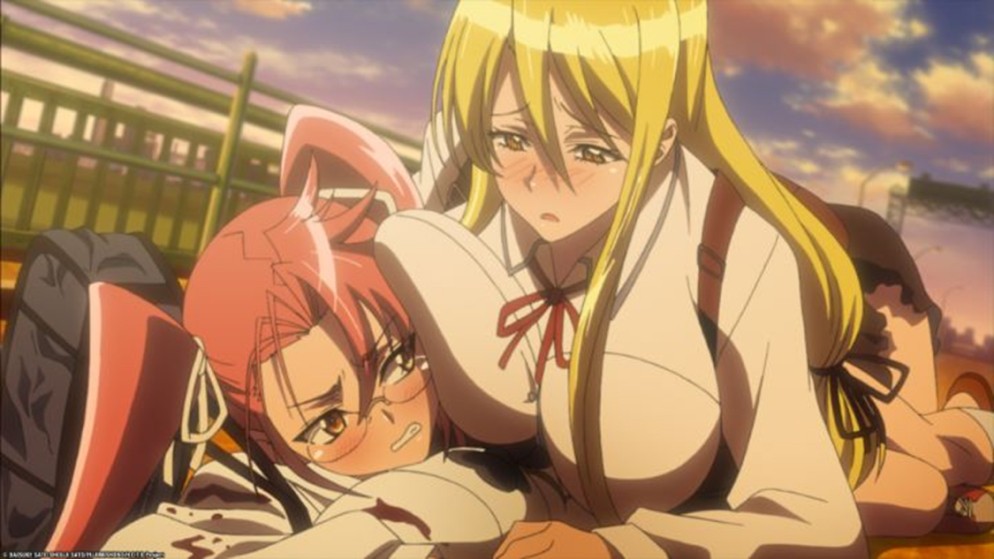 Classic accidental lewd scenario in the ecchi anime called High School of the Dead
Hentai is the opposite of ecchi in terms of what is displayed. The content prides itself in leaving nothing to the imagination of its viewers. When you begin to watch an hentai you never wonder if the main protagonist will sleep with characters. Full intercourse is always on display and shown fully from beginning to orgasm.
The story is also even less relevant than in ecchi anime and will usually revolve around 2-3 sexual situations. Yes in some cases ecchi will have only fan service after fan service but there is usually an underlying story that ties things up. In the case of most hentai shows, sexuality is the main aspect of the story. That is where the difference lies drastically between the two! Ecchi and hentai focus both on sexuality but only one of them actually displays sexuality. Some ecchi do actually come very close to displaying intercourse, one more notably being Highschool DxD. This show does fully display nudity although female sexual organs are always hidden. The story also focuses heavily on the fact that all the female characters want to have intercourse with the main character. That being the line remains where you never actually see Rias have sex with Hyodo.
So there you have it! The main difference between both types of content is whether we actually see intercourse taking place. More specifically, sexuality is fully displayed in hentai will ecchi hides sexual acts behind aspect of fan service. Another domain that features plenty of fan service is virtual streamers. If you are curious to see why, take a look at our article on what are vtubers and their activities.