What are Vtubers and Suggestions of Popular Erotubers (Lewd Vtubers)
What is a Vtuber?
Vtubers are a type of virtual entertainment personality that can be found on various platforms of the internet. They are people who enjoy creating content through a virtual avatar instead of their real self. For this reason, their avatar can take any otherworldly form that can range from human to humanoid dragon or celestial beings. There are two types of Vtubers avatar model: 2D and 3D. 2D avatars will have different facial expressions and may move a little but they seem less realistic than 3d models. 3D avatars usually follow the full-body movement of the person behind the avatar. For instance, their avatar arms may move or they may walk in a room following the movement of the person.
Vtubers activities are various and include many aspects of regular online streamers and tubers. Most vtubers, for instance, create and share videos on YouTube and other social media platforms. Other individuals enjoy streaming themselves playing games, chatting with their viewers and reacting to videos online. Some even sing songs and have personas that are closer to a real life idol. Vtubers are often known for their lively and engaging personalities, as well as their creative content and production value.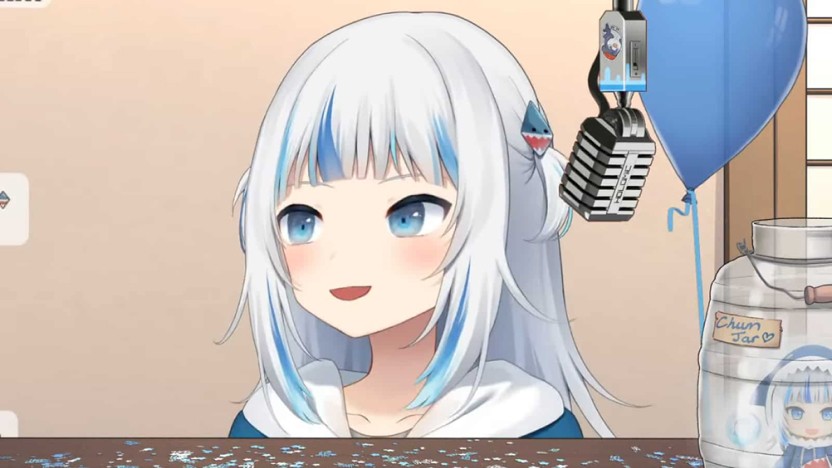 Picture of Gawr Gura, one of the most popular vtuber part of the Hololive company
Vtubers are popular for a variety of reasons and some prefer them to regular streamers. One of the main reasons is that they offer a unique and personal experience that is not possible with traditional media. Vtubers are able to interact with their fans in a very unique way that goes beyond traditional celebrities. This interaction creates a connection between the Vtuber and their fans that is unlike any other type of relationship.
Companies with Vtubers talent are very popular and have grown a lot since 2019. The biggest vtubers company is Hololive, a Japanese company of all women vtubers with multiple generations of talent. Nijisanji is the second most popular Japanese company which features male and female talent and produces Japanese and english content. Recently, Vshojo, an all-girl American company has become one of the staples of North American vtubing. That is because Iron Mouse, a well-known devil, has become the 3rd streamer with the most subscribers on twitch. This was an impressive milestone as she became the most popular female streamer of all time.
With Vtubers being so popular, it was inevitable for the domain of pornography to also come into play. Lewd content was always a part of the vtubing industry with fanart and or how some vtubers act during stream. That being said, things changed drastically with the rise of erotubers.
What is an Erotuber?
Erotubers or Lewd Vtubers are a popular subgenre of Vtubers because of the content that they share. Instead of SFW content, some of their activities include producing Hentai pornographic content for their viewers. Erotubers are then able to share their experience with the community through adult websites and other means. Because of the accessibility and also the anonymous aspect of vtubing, vtuber porn has been becoming a lot more popular.
Some erotubers may do adult streams where they will use sexual toys to give themselves pleasure. In these streams, the streamer will mostly showcase their avatar being fully or partially naked. Their viewers may even control what type of erotic action is occurring or how fast it's happening. All of this erotic content or at least most of it is usually done through their virtual avatar. Most erotubers use 3D avatars since it's easier to see the movement of the arms and legs for a better immersion.
Although Lewd Vtubers make adult erotic media, they can also sometimes make regular content. For instance, a lot of erotubers will stream themselves playing games or other sfw activities so that they reach more people. With the popularity of vtubers and so many of them producing various content, it can be complicated to find erotubers. Well fret not we got you! In this list we will showcase the most popular Vtubers who are known to produce spicy content:
Projekt Melody (Vshojo)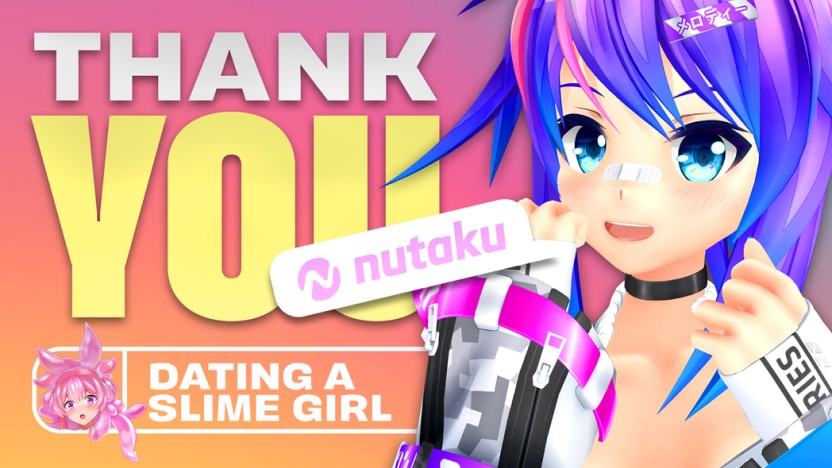 Promo of the erotuber Projekt Melody when she did her partnership with Nutaku
Projekt Melody is the name of an Artificial Intelligence who is also a popular Vtuber. Her character was created by DigitrevX, an American artist who works with 3D character models. She became popular in 2019 as she began to do adult live streams on multiple platforms. At that moment, she was one of the first and only virtual beings making adult content. For this reason, she is often painted as one of the reasons why Vtubers became as popular as they did.
Today, Melody is as popular as ever, being one of the founding members of Vshojo. As mentioned previously, Vshojo is one of the most popular and successful companies of American vtuber idols. They feature other well-known vtubers like Zentreya, Iron Mouse and Nyanners. That being said, she has been glitching a lot unexpectedly lately. This gave some room for her alter ego Melware to grow in popularity as a darker and more dominant AI than Melody.
Melody still produces a lot of adult content today by creating new videos and content of herself. She also does special adult live streams online where her community can influence what happens during the stream. She also enjoys playing lewd video games from time to time on popular adult platforms. Her popularity is so great that she is one, if not the most popular Erotubers in the world. She will even be featured in an adult video game where she will be one of the main characters.
Fefe

The erotuber Fefe in her classic outfit with her Misfits shirt and skirt
Fefe is a lewd vtuber who became active in 2020. She has a gothic\punk aesthetic with piercings and tattoos. She is seen more often than not wearing a Misfits t-shirt or a white top and a small skirt. She considers herself to be the horniest person of them all, often posting lewd tweets many times a day. Her popular saying is that she never asked to be this horny, but "horny" chose her.
Compared to other vtuber she has a unique style where she tries to differentiate herself from others. For instance, she recently managed to get an advertisement to play on the Nasdaq billboard in New York Time Square. She also released a Limited Edition Onahole that was extremely popular selling out only in a few days. This made her the first Vtuber to release a sextoys based on her persona.
Apart from doing unique stunts, Fefe usually posts sexy content about her avatar and also herself. Fefe porn content like her videos and art are usually available on her personal website. She also posts some of her content on twitter, often exchanging lewd jokes with other vtubers or her community. She has a running gag in her community where other people or vtuber call her flat although she isn't, which can lead to multiple funny situations. She also has a strange obsession with having sex in multiple fast food restaurants.
Mira Pink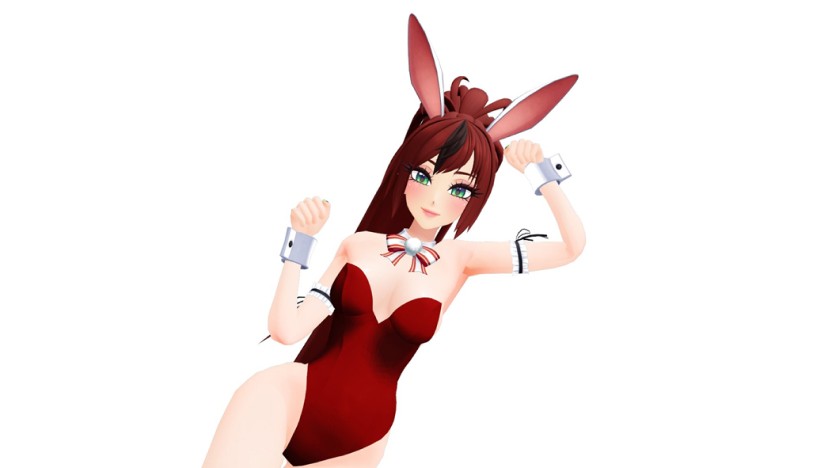 The erotuber Mira Pink in her classic bunny outfit
Mira Pink is a female English Ero Vtuber who made her debut in 2018. She came up with ideas about her avatar and created her own design from scratch. Jjinomu, a very popular modeler, loved her concept and chose to create Mira's full 3D model.
She is known for her various online activities which mostly focus on just chatting streams and gaming streams. Even though she is relatively new to the scene, she has managed to quickly gather a loyal following. She is not currently associated with any association.
Mira is often pictured as a tall woman with brown hair tied in a long ponytail. She has an iconic small black streak on the front of her hair. Her regular outfit is a turtleneck with a black corset and a skirt that changes based on her stream.
Mira is known as a Erotuber because of her many pornographic streams and her Hentai videos. She produces content that is similar to what Projekt Melody does. She usually will go on stream and pleasure herself following her chat donations and comments. She is well known in the community and is friends with other popular vtubers like Silvervale, a member of Vshojo.
These three lewd vtubers are some of the most know erotic content creators, but many other exist. In fact, with the numerous programs that exist to create your own virtual avatar, Vtubing is more popular than ever! It wouldn't be surprising to see new faces joining the trend and becoming lewd vtubers. If you are curious about what other types of content exist in the hentai realm be sure to check out our article on the matter!