What is the difference between Hentai content and Cartoon Porn?
A common confusion which often occurs when browsing animated pornographic content is the distinction between hentai and cartoon porn. As we covered when we defined hentai, the industry has strived amazingly well for the past 20 years. Today hentai has become one of the most popular forms of pornographic content made. That being said, cartoon porn also gained a large amount of popularity and is a well-known counterpart to hentai.
You might ask: what is cartoon pornography? Cartoon porn, which can also be called adult cartoons or adult western animation, is another form of animated pornography. This type of content is often created by westerners, but as we will cover that's not always the case. More often than not, this type of content are parodies of pop culture media like video game or tv show characters.
It's not always easy to distinguish hentai from cartoon porn and this is the focus of the current article. We want to help you differentiate the content that is considered part of one or the other! To explore what makes them both unique and diverse we must explore their respective history.

Left is Herza from the cartoon porn FANDELTALES - The Cursed Prince from Derpixon and right is an image from the popular hentai Mankitsu Happening from Ryuuzou Matano.
Short Summary of the History of hentai
Much of the difference between the two types of content lies in their creation and country of origin. hentai came from Japan and began its incursion through artwork and painting. Its origin can be traced back to the sixteen centuries (which we cover in our hentai history timeline). Then came the rise of adult video in the 1980 following the creation of VCR. This brought the release of multiple new erotic anime series because of VHS overseas import. The first VHS that made its way to American soil was called Urotsukidōjil. Afterwards, the floodgates were opened and many new hentai animations were imported.
These adult videos featured unique types of artwork that mimic the manga-esque aesthetic. They also featured kinky and erotic stories that were quite extravagant for that time. After their release, hentai popularity grew with various new types of media being used to showcase the artwork, like erotic video games. From there sky was the limit, as the internet made hentai more accessible than ever before. Since then, not only has hentai become part of popular culture but it also influences drastically how people draw pornography. At the same time that hentai was gaining popularity, another form of the media was also becoming more popular overseas: cartoon pornography.
The Beginning of Cartoon Porn
Cartoon porn, also called adult erotic animation, through its own history, had a somewhat different origin. The earliest film ever reported having pornographic animation resembling cartoon was The Virgin with the Hot Pants, a 1924 movie. The beginning of this adult movie featured a short animation that was a first for its time. You could see a phallic-like figure following a woman playfully running around a hall until they had intercourse. This animated sequence featured western-style drawing that was quite different from what could be found in hentai content.
The concept was further explored during the golden age of pornography, which occurred between 1969 and 1984. During that time a lot of tentative animated porn was created to explore the media and break barriers. This phase of lewd experimental animation spawn multiple new pornographic material that made history. A few examples are Fritz the Cat, in 1972, and Tarzoon: Shame of the Jungle, in 1975. Fritz the Cat was one of the first films to receive an X rating in the United States. As you may have expected, it was heavily criticized for its time because of its art style which mimics kids' shows. Still, Fritz the Cat gained popularity and was shown in multiple adult theatres at that time.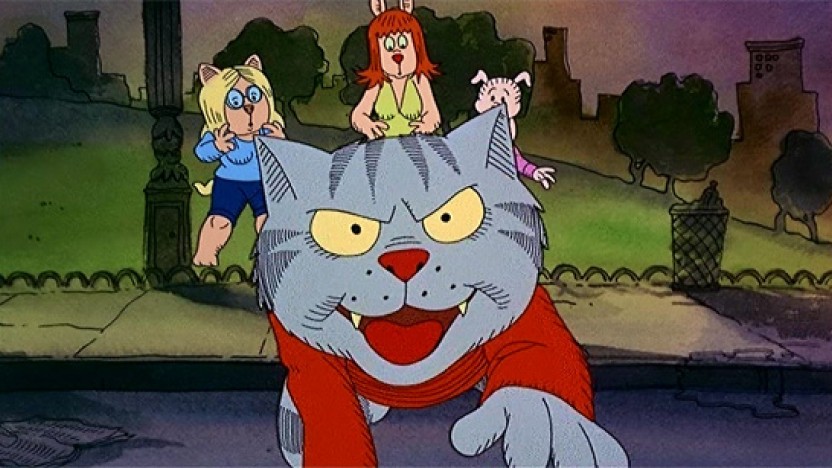 Image for the movie Fritz The Cat, a 1972 movie directed and written by Ralph Bakshi.
These two movies where pioneer to some of the pornographic content that is made today. Without these authors breaking the barrier of regular pornography, a lot of content that people enjoy today would not exist. That is because these authors explored a new world of sexual fantasies through animation. So although hentai became very well known in general culture and popular on various NSFW platforms, so did cartoon pornography.
The Merger of Animated Pornography
As mentioned previously, with hentai VHS making their way to america animated pornography became even more tolerated and less novel. Now with both forms of the media being present, it was easy to see the difference between the two. Hentai featured an anime-esque artstyle and heavy censorship of sexual actions. The genre also had novel ideas that were not common in the western culture, like tentacle monsters and otherworldly characters.
Cartoon porn instead had an art style that was closer to classic American cartoons. For instance, characters look a lot closer to She-ra and He-man than to characters from animes like Fist of the North. The subject tackled in these pornographic video also had a view that was much closer to American stereotypes. An example of this is Transgender content, which was a lot more prominent in hentai than in porn cartoons. That being said, with both forms of content becoming more and more popular, we saw both influencing one another as time passed. In a way, both hentai and porn cartoons influenced each other throughout history. That became even more true with the internet, which brought the ability to share everything with everyone.
With technology becoming what it is today, people were able to share their own creation with the entire world. Fuelled by platforms that allowed sexual content like twitter, Tumblr and others, hentai and cartoon porn is no longer as clear as it was.
Modern days and the Popularity of Cartoon Porn
Today both types of animated pornography have their own respective public and their own popularity. The main difference in both media mostly lies in the artwork. Adult cartoon utilizes more often than not an aesthetic that is closer to western cartoons. Furthermore, the product will often be derived from the popular media or video game series. For instance, in 2021, Zone, a very popular erotic artist, created the adult cartoon "Pet The Pussy''. It parodied the famous Animal Crossing franchise, by showing Ankha, the notorious Egyptian cat girl, having intercourse with Villager. Needless to say, that for a myriad of reasons it took the internet by storm. It was so popular that it spawned a trend on Tik-Tok where users were imitating the dance of the famous Egyptian cat.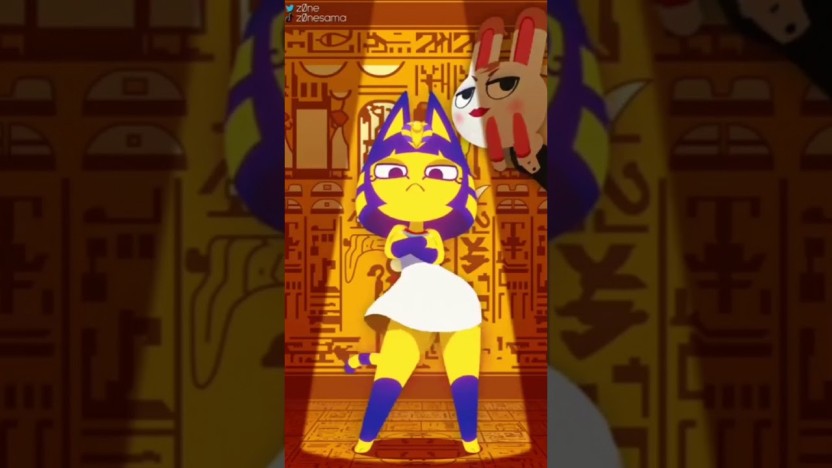 Ankha in the parody "Pet The Pussy" made by Zone
This is not the only time that a parody of a porn cartoon has become popular like this. Most popular adult cartoons ever made are based on spoofing of popular TV shows. American cartoons like Teen Titans, Ghostbusters, and X-men have been spoofed as adult cartoons, to only name a few. The same occurred with popular video games franchises. A lot of adult cartoons are derived from popular franchises like League of legends, Overwatch, Mass Effect, and many more. People will use 3D models and make cartoon porn showing characters in various sexual scenarios.
This does not stop original adult cartoon work from being extremely popular. Derpixon and Meru, two popular internet artists, created original works that accumulated more than millions of views on the internet. Because of their amazing creations they have both been featured in our artist's section. Gay, lesbian and trans content are also very popular in cartoon porn and are featured in a lot of videos.
The Difference Between Adult Cartoon and hentai
The adult cartoon art style showcased in the previous section is quite different from the one found in popular hentai. That is where the main difference lies between the two forms of content. Although both are animated pornography, the art style defines if the media is considered an hentai or an adult cartoon. Another condition that can be considered is the country of origin of the media. For something to be considered hentai or anime, it technically needs to be drawn by an artist in Japan. That being said, without going into the technicality, artists online tend to mimic the art style so the origin may get lost. The distinction therefore lies a bit more between the art style of the media.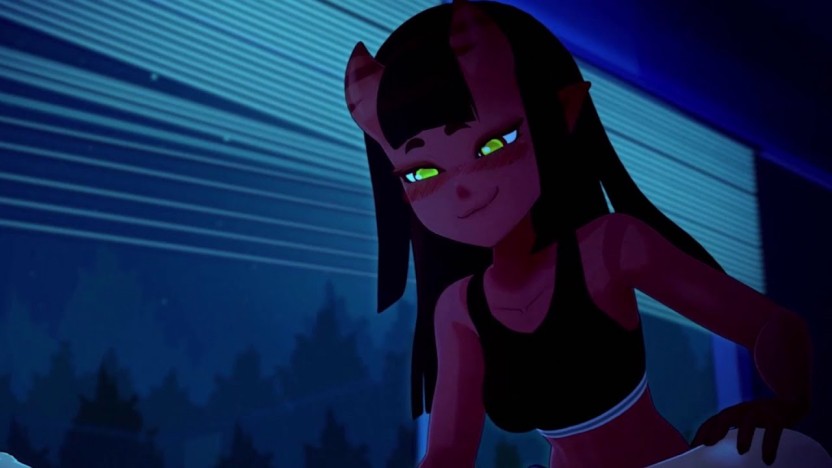 A picture from Meru The Succubus OVA 1 made by Meru
Hentai will include character designs that have a distinctive eye shape. The proportions of the characters might be more exaggerated and follow unique anime-esque expressions. More often than not explicit sexuality will be censored. Hentai also uses unique elements like the ahegao facial expression, which is used to put emphasis on female orgasm.
Cartoon porn features a different artstyle where the eyes are more of a regular shape and body proportions closer to reality. The characters are therefore a bit more realistic and the media is more often than not uncensored. The art style showcase in this media is also a lot closer to American-style video games. In fact, as we mentioned earlier, some 3D models are used to create cartoon sex scenes.
In spite of the fact that we dive into the technicality of the terms, it is not easy to distinguish them. That's because both media are continuously influencing each other. For this reason, most people that consumes animated pornographic material won't necessarily make the distinction when viewing a video, except if the content is quite obvious.
The art style of a video might be closer to an adult cartoon, but the character's expressions may use ones from Hentai. Some cartoon characters might use the infamous Ahegao, although normally this expression is only used in hentai content. The recent rise of 3D virtual avatars, also called Vtubers, also helped to blur the line. That's because content created with 3D models may harbour a Japanese art style aesthetic but can be controlled by anyone in the world. To learn more about vtubers be sure to check out our article on the subject!
So in summary, even if the two media are quite different from one another, today's reality makes it less obvious. From their own distinctive origins, it is not too far-fetched to think that the line between the two will continue to blur. Where will cartoon porn and hentai be in another 20 years, it's up to your imagination!