What is Ahegao and how is it connected to the hentai sub-culture?
Ahegao is a Japanese term prominent in erotic manga, anime, and hentai. It's used to describe the facial expression that occurs when a character feels intense pleasure or is having an orgasm. The face is usually characterized by a drooling mouth, bulging eyes, and a flushed complexion. The Ahegao face is almost strictly used as an expression for female characters. That being said, in some cases men or futa characters may also make this expression. It is without a doubt one of the most popular terms used in hentai and even the anime industry. It's so popular that even cartoon pornography which is often made by westerns are now using the facial expression.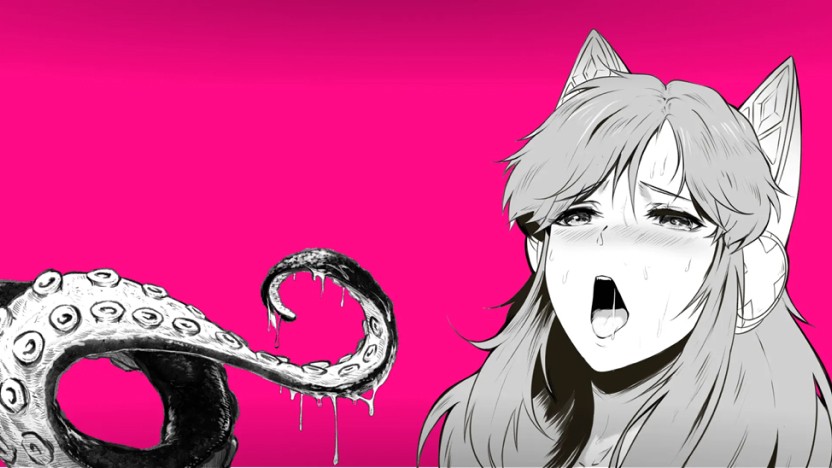 Nutaku-tan doing an Ahegao facial expression
Origin of the term
The history of how Ahegao came to be is not exactly pretty, but it needs to be explored to be understood. Traces of Ahegao can be found in various 1960s Japanese erotic comics. Back then, the thematic of those pieces usually revolved around the expression of pleasure during a climax. The authors used Ahegao to showcase the ultimate euphoria that the characters could feel during intercourse.
Ahegao then became even more present in the media during the golden age of porn around 1980. During that time more hentai content was created than ever before with the rise of animation. Slowly, the expression became more and more prominent and eventually started to be a staple of stories made at that time. Part of the reason why this came to be, was because of the type of content that was created during that time. Early hentai works focused a lot more specifically on gender stereotypes and old representation of social roles. This is where things get a little dicey about original Ahegao representations.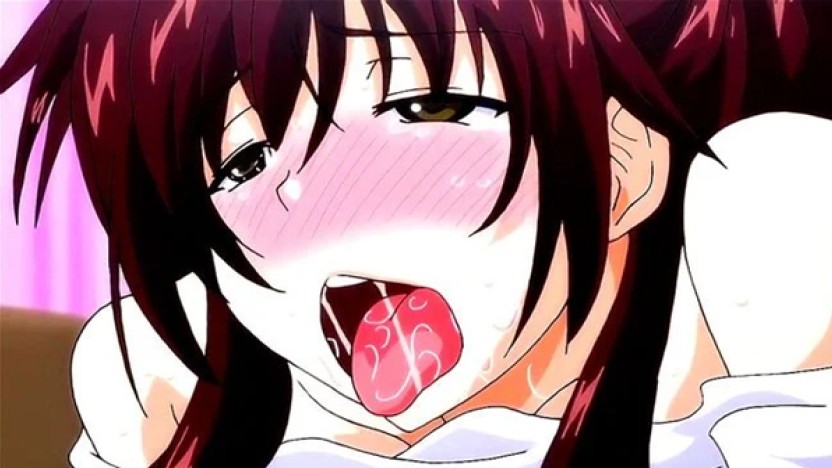 An Ahegao from the main woman character in the hentai
Fella Hame Lips
In the 1980s, It was common to see hentai works that focus on gender dominance. Usually it portrayed a man with bad intentions flirting with a shy woman who was unaware of how sexuality works. This fueled early representations of Ahegao, since it displayed a certain form of control between the characters. The woman had so little knowledge about sexuality and the action that was taking place was so "satisfying" that she was in ecstasy. Because of this she would lose the ability to speak and function from the pleasure she was feeling.
Drawings and animations would picture the female characters becoming limb from the pleasure. Her tongue would stick out of her mouth, her eyes would cross and she would drool intensely from the pleasure. The origin of Aheago comes therefore from the representation of a total lost of control during a sexual intercourse. This was even further demonstrated by the fact that only female characters exhibit this particular form of expression. In these early representations of the expression, it was unthinkable to see a man doing such a face. For these reasons, the original representation of ahegao was not very kind towards women since it played on the fantasy of their lack of control in these particular situations.
Ahegao has since changed quite a bit in modern porno content. The facial expression is still used in most animated hentai shows that get released today. The expression has also become quite known amongst the general public to become a very unique phenomenon. Ahegao started to be publicly popularized in the early 2010s because of the rise of otaku media in popular culture. More specifically, two particular situations can be attributed to the popularity of the trend in the general public. The first one is the creation of merchandise that showcases the expression. The second situation that occurred was Belle Delphine using the expression as a trademark for her content.
The Popularity of Ahegao Merchandise
Anime merchandise has always been something very popular and cherished by the otaku community. People love to display their anime figures or to wear apparel that puts their favorite characters on display. That being said, nothing has been a statement of pure love towards hentai as much as the classic Ahegao shirt. Today, most people that are aware of otaku culture know about this infamous piece of clothing.
This new movement can be traced back to 2015. Someone in South Korea used various characters from the popular hentai artist Hirame to create the iconic piece of clothing. Using scans of the original doujinshi they extracted the girls' expressions and fabricated a collage. The print fully covered the shirt from front to back. The montage quickly got popular among the community through various online forums. It became a popular topic of discussion and trended on many community forums like Reddit. People were wondering who would dare wear such a weird piece of clothing although many proclaimed that they would proudly. As you may have expected, people started to buy the shirt as a joke and it was quickly sold out.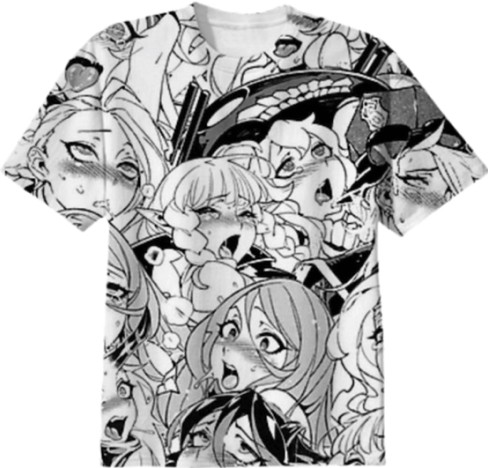 The original design of the Ahegao shirt
The popularity of the item led various clothing websites to jump on the trend. Many independent artists stole the design or created their own version and were selling it on their website. Multiple ahegao designs were available to the public as the demand became higher and higher. This sparked further discussion online. It eventually led to the creation of a subreddit called /r/ahegao where people were actively discussing everything Ahegao related.
Some users were trying to find the source of the artwork and search online for its origin. Others posted pictures of people wearing the infamous shirt and discussed if these fans went too far. Then, in 2017, a Redditor called Droidsexual posted the eBay link to a new Ahegao design. This new design quickly surpassed the original to become the most popular hentai shirt of all time. It featured various characters doing Ahegao from numerous popular hentai like Danke Dankei Revolution.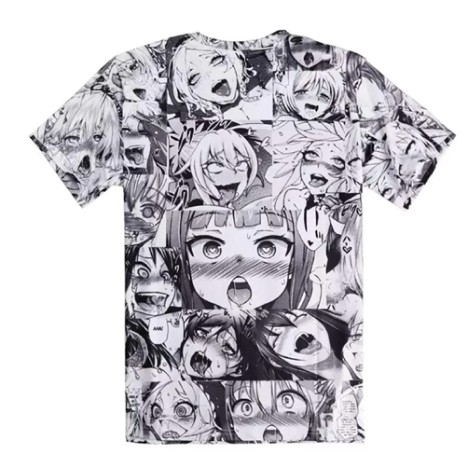 The now infamous collage design of the Ahegao shirt
From there the popularity of Ahegao only grew, as more and more people were buying shirts and hoodies. New types of apparels were even getting released like watches, shoes, and pants, all featuring the infamous design. At this point Ahegao was so popular that it became a cultural trend getting various media coverage. It spawned additional new subreddits like /r/animemes where people shared various memes about the product or the facial expression.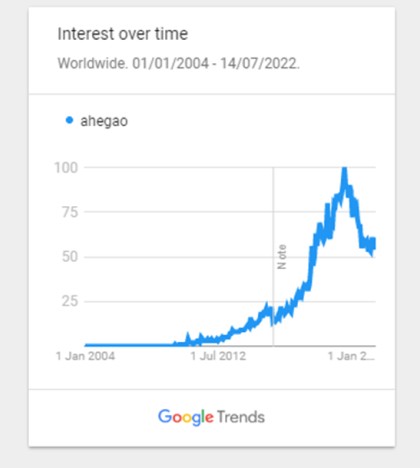 Google analysis of the interest over time of the word Ahegao:
https://trends.google.com/trends/explore?date=all&q=ahegao
Finally, in 2018, the hentai artist Asanagi, who had some of his art illegally taken, had enough. He made a partnership with Fakku and released his own version of the shirt. Now the author had the proper credit and the authentic shirts could be sold in conventions. Now in most otaku gatherings and conventions it is impossible not to see an ahegao piece of apparel. Until this day, these infamous items are still one of the most popular hentai trends ever made.
Nevertheless, the new authentic ahegao shirt was not the only reason why the trend got bigger in 2018. It was also because of a popular influencer called Belle Delphine.
Ahegao and Belle Delphine
As Ahegao rose and became known by the general public, other people tried to make use of the popularity of the trend. In 2018, Belle Delphine created a Patreon account to post pictures and lewd content. In just 8 months, she accumulated more than a thousand subscribers on her patreon. It was notable at the time because it was one of the most significant growths on this website for an individual. Although her content was already popular at the time, it blew up in September of 2018. Following the popularity of ahegao on the internet, she posted herself doing the facial expression. As expected, all her social media exploded with reposts of her picture taking place left and right.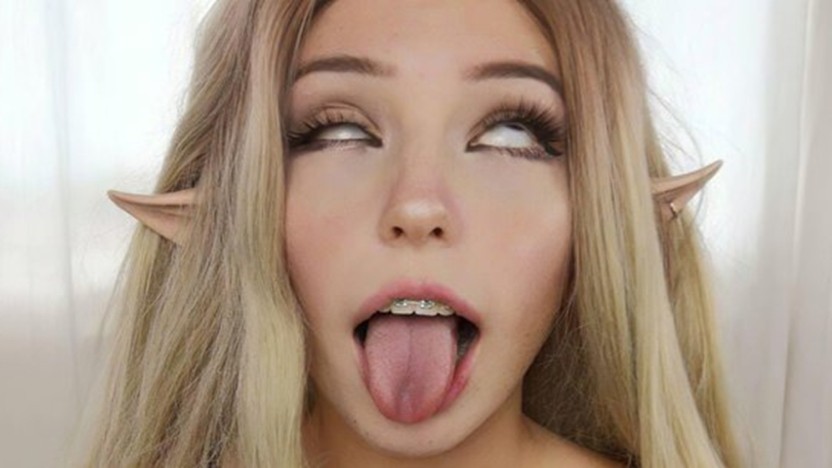 Belle Delphin first ahegao picture on her now banned Instagram account
Reddit, 4chan, Instagram, twitter and many other websites saw a rise in searches for Belle Delphine profiles. Following her success, she posted a few days later a video of herself in cosplay doing multiple ahegao expressions. Again those videos blew up on social media which resulted in some of the safe for work platforms like facebook to ban her account. It didn't stop her from using various adult social media to promote herself. Her ahegao expression quickly became a staple for her pictures. Each time she would post new pictures or videos she would gain millions of views.
Belle Delphin's ways for making herself trend started a movement in the adult industry around the same time that Ahegao clothing gained popularity. Multiple women on various websites like Pornhub, Onlyfans, and Patreon started taking a similar approach when making their content. It created a new model for women in the adult industry which focuses on geek and lewd content. Like Belle Delphine, these ladies would be shown having gaming gear, doing cosplays and other "geek" related things.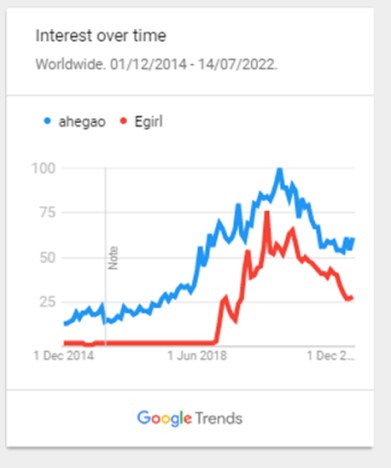 A graphic of interest over time for the term Ahegao (In blue) and Egirl (In red) which also matched perfectly.
https://trends.google.com/trends/explore?date=2014-12-01%202022-07-14&q=ahegao,Egirl
To categorize these types of entertainers, the internet community refers to them using the term E-Girl or Egirl. They were branded as entertainers who use the popularity of hentai and other geek culture things as a method to please their viewers. Ahegao was not only part of hentai content anymore but was now very popular and used in mainstream pornography.
Changing the Narrative and Breaking Taboos
As with most things online, the egirl trend sparked some controversy regarding the nature of their content. Some suggested that these entertainers were using opportunism to fake their interest in geek-related things for views. Some also suggested that they utilize the Ahegao facial expressions as a means to make money. It is important to note that in reality this might be a pertinent way to take the narrative back to women.
As we mentioned previously, the creation of Ahegao was demeaning to women. More specifically, in the notion of their loss of control and man domination during a sexual relationship. Instead, women making adult content now take the expression as a form of art and fetishization. Playing with the expression and having fun with it can therefore be interpreted as a way to take back control and fight the original meaning of the expression. This pornographic trend can therefore be seen as a way to change the narrative for these entertainers and make it theirs.
Furthermore, focusing on sexual fetishes like Ahegao that idolizes the female orgasm can also be beneficial for feminism and healthy sexual representation. Even today, female orgasm is still considered a taboo in many places of the world. Discussion surrounding sexuality focuses much more on men orgasm than female orgasm. Hentai is not always a good representation of sexuality, but Ahegao does showcase female orgasm as one of the main aspects of the narrative which can be viewed positively in the situation.
In summary, although the origin of Ahegao is not the greatest, it is safe to say that the word has evolved quite a lot. It has also gained a strong fan base inside the otaku community which spawns various merchandise of the expression. Even adult content creators have taken back the expression which brought the popularity of Ahegao to a new level! With the strong popularity that anime and hentai has gained in the last few years we can only expect Ahegao to become even more popular. Hentai video games often feature the classic facial expression. If you are curious to see what that looks like check out our list of popular hentai free to play games and premium hentai games!