What does Oppai Mean in Anime, Hentai, and Other Otaku Media?
One of the most common elements in hentai is "oppai". But what is the meaning of oppai and why is it so popular in hentai?
Derived from the Japanese word for "breasts," oppai refers to a female's large "boobs" or "tits" in manga, anime, and hentai. A character is considered to be oppai when their boobs are noticeably larger than what one would consider average. More specifically, they can take a wide range of boob sizes and influence how characters act towards them. The lower limit is considered "flat" by the anime and hentai community while the upper limit can be comically massive and impossible outside of a drawn medium. Big oppai is even a term that is employed to describe boobs that are larger than a character's head.
Oppai is used in multiple hentai media of all kinds. For instance, multiple hentai animated series feature characters with large breasts. If you are curious, be sure to check out our list of popular hentai shows. There is also a large number of adult erotic mange which features oppai characters! With such popularity it's important to tackle the origin of the trend and its history.
Short History of Oppai content and Its Origin
Hentai characters with large breasts first appeared as a trend on the internet in the late 1990s and early 2000s. From then, they only became more and more popular as oppai characters became iconic. This spawns many hentai doushinji, shows and even video games featuring large breasts women. Some of these examples even featured breasts as one of the main aspects of the story. One example is the hentai Oppai Heart Kanojo wa Kedamono Hatsujouki that was released in 2011. Oppai Heart features a story oriented mostly on sexual action of all kinds that focuses on character's large breast.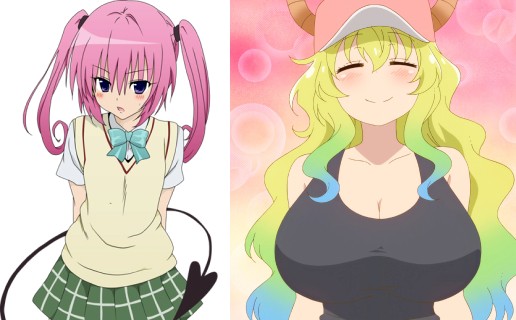 Left a picture of Nana Deviluke, a character consider "Flat" from the Ecchi anime shows To Love Ru and right a picture of Lucoa, a character who as "F" size oppai from the anime Miss Kobayashi's Dragon Maid
The size of the breasts may vary, but in some cases they are usually significantly larger than the character's head. This led to numerous memes and a funny reputation about the Japanese medium. For instance, it is well established that people who don't understand Anime and Hentai often think that all characters in otaku media have large boobs.
Like many different fetishized concepts, oppai anime has faced some criticism for its sexist and objectifying portrayal of women. However, there are fans of oppai anime and hentai who appreciate the art style and the focus on female sexuality. The trend only rose in popularity with now infamous merchandise that can be found in most Anime-related stores.
What makes Oppai so popular?
Why have large breasts become such a staple of hentai and anime? Large breasts have been something popular in pornography for many, many years and are considered a top fetish among many people. More specifically, large breasts have often been stereotyped as attractive to men in numerous media such as movies, TV shows, advertisements, comics, and much more. This is because they are seen as a sign of exaggerated femininity, but this is really not always the case.
Many research suggests that instead breasts are a symbol of abundance and life which makes them desirable. This is especially true if you take a look at history and representation of nudity in art pieces. Until the 19th century breasts were seen as a source of nourishment for infants regardless of their size. In many Japanese arts that were created before the 19th century, there is actually little attention that is put on breasts.
Things then changed drastically after the Second World War. That is when hentai really began to flourish and become the industry that it is today. During this time artists began to experiment and try new things. It was also a time of cultural changes that was heavily influenced by the United States. Since breast fixation was very important in western culture, Japanese artists tried to design characters with large breasts. Slowly multiple works of manga and anime featured oppai women.
Multiple hentai works also began to have characters with a large chest which were a focus during sexual activity. This became even more apparent with the rise of tentacles pornography. Many hentai started to feature tentacle bindings similar to shibari, a form of BDSM rope play that can be used during intercourse. By using tentacles, the artist could showcase the form of the breast and drive the attention toward them. This trend grew in popularity and began to be a common element in the anime culture. It was then in 1990 that the Internet took the trend to the next level by posting fan arts and creating community forums dedicated to characters with large boobs.
Merchandise Based on Large Breast
Art featuring oppai characters is very popular throughout not only the online world, but also as physical items and merchandise. There are many websites dedicated to oppai hentai, and the popularity of the genre has resulted in a large number of oppai-themed merchandise being produced, including apparel, wall accessories, gaming accessories, and even food.
One of the most popular computer accessories is the infamous oppai mousepad. It's a unique type of mousepad that is designed to look like a pair of breasts. They are usually made from silicone or other soft materials, and have space in between the large boobs in the middle to support the hand holding the mouse. Some are even offered as "life-size" and weigh over 4lbs (1.8kg).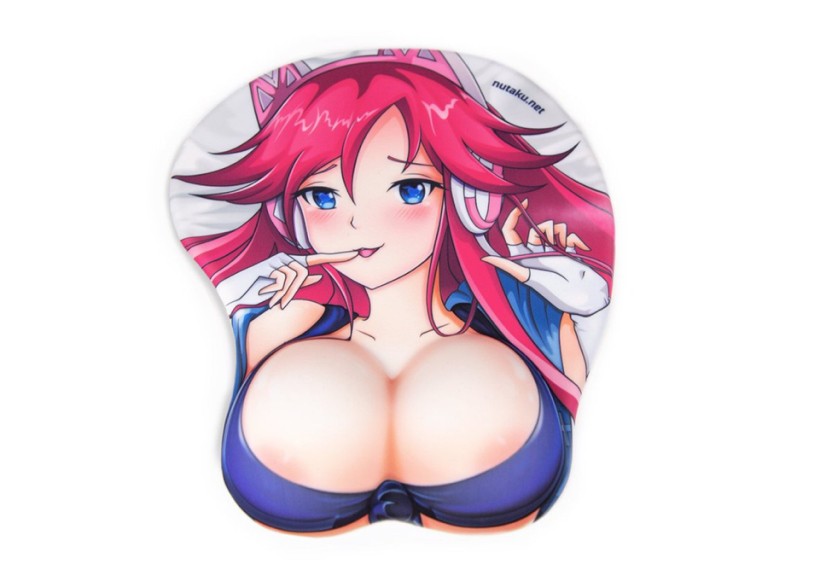 Nutaku-tan, Nutaku Games Official Mascot, Oppai mouse pad
Throughout the years various anime also made reference to the now very popular oppai culture. In a sense, the term even became its own meme as more and more anime acknowledge the infamous trend. One example of self-aware oppai accessory is the infamous "oppai" apparels that gained huge popularity on the internet.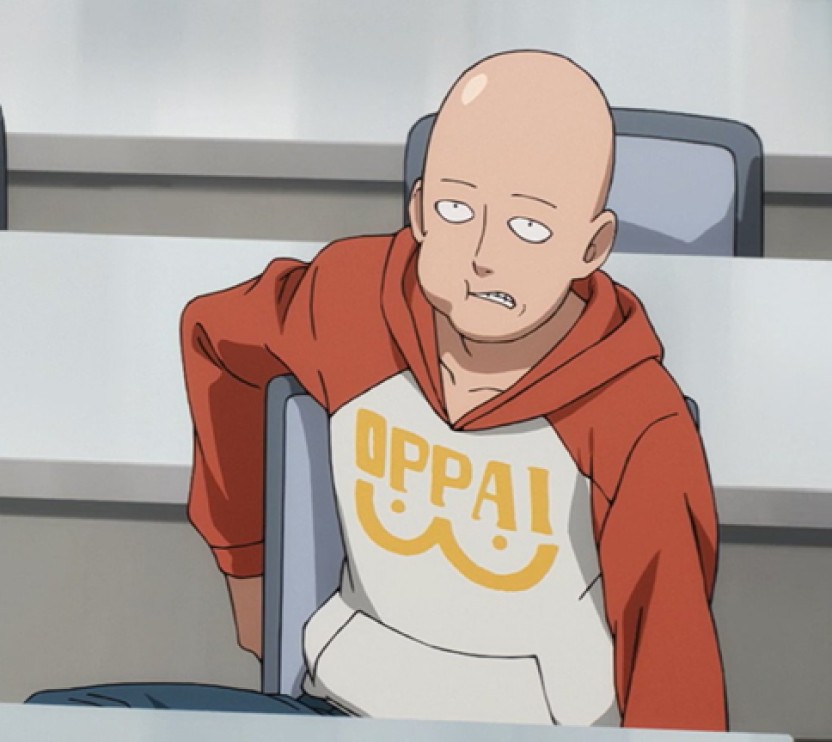 Saitama from One Punch Man wearing the popular oppai shirt
They were popularized by the anime and manga One Punch Man where the main character Saitama, who is too powerful for his own good, wears one of these shirts in his casual time. Due to its popularity, many people wanted to get this hoodie. Because of the demand, the oppai hoodie can easily be seen during anime conventions or online shops. With so much merchandise created for breasts, it's important to dive into why oppai is so popular.
The War for Oppai Supremacy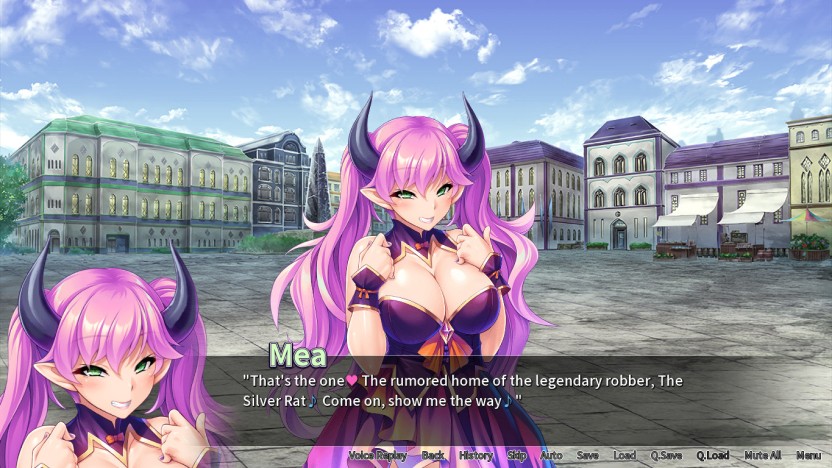 Image from the very Oppai waifu Mea in the visual novel Stealing a Monster Girl Harem
Fast forward to today, most anime, manga, hentai or video games with a Japanese art style that gets released have oppai characters. It is so prominent in fact that clans about breast size have formed and divise anime and hentai fans. "Oppai is truth" is the popular motto of fans who believe that waifus with large breasts are superior. In response, the saying "Flat is Justice" was created by the community who believe characters with smaller chests are better.
Every new anime season that gets released motivates people to argue about the best waifus. As you might have guessed, this includes characters' breast sizes. Because of the popularity of various breast sizes, many anime or hentai featuring large and small breast characters have harem elements. That is because harem often has multiple characters of all kinds that fight for the main character's love. This competition can spark jealousy between characters because oppai characters may use their breasts to arouse the MC.
We only scratched the surface of oppai meaning but it is undeniable that these characters are an important staple. If this is your jam, we strongly suggest you take a look at the top Nutaku games featuring Oppai waifu. We are sure you will be able to find a beautiful large breast lady to fulfill all your lewd desires!