Most Popular Premium Hentai Games for a Fun Filled Lewd Evening
Nutaku is also home to some of the best premium games ever made! We used the word premium to define paid hentai games. With hentai becoming more mainstream, many developers have jumped on the bandwagon to create some amazing pornographic contents. These new downloadable hentai games not only please and excite consumers of all kinds, but they also push the boundaries of lewd content to a new level. Also, with new technologies like virtual reality coming into play, pornographic games are more realistic than ever! Some innovations in various genres used for hentai games have also made the content feel fresher than ever.
Here is a list of premium games that are available to be bought and enjoyed right away on Nutaku. The games in this list are not in any particular rank. They instead consist of a few selections of new and noteworthy titles that have been released. If you are curious to explore more games you should totally take a look at our most popular free hentai video games list!
A Housewife's Healing Touch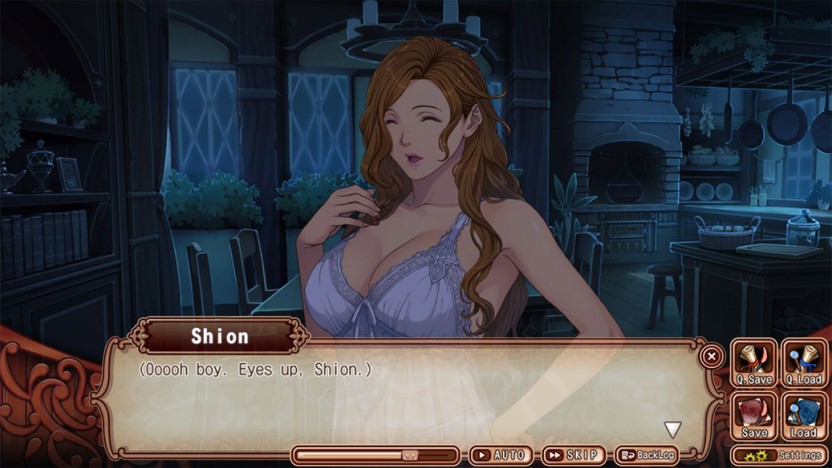 Genre: Action Adventure, Visual Novel
Directed by Furin and containing beautiful art made by Homare, A Housewife's Healing Touch is a must! This hentai game includes action adventure gameplay with interesting Visual Novel elements. The story follows Rui, the beautiful village's healer who is doomed to a terrible fate. Fortunately for her, this all changes when she meets Shion. Shion is a young man who is not capable of using magical powers, unlike other people. This changes the day where a grave incident proves he had power beyond his wildest dream. It's at this moment that Rui decided to help Shion by teaching him how to control his magical power. To do so, she explains that they must have various sexual relationship because magical knowledge comes from physical contact.
The game is available in two versions: A Pure Love version and a Netorare version. In the Pure Love version, you follow Rui and Shion in their new-found predicament together. Rui must take Shion's virginity to become powerful, but by doing so the young man falls in love with her. Shion decides that he will do anything for Rui in order to save her from her dark fate. In the Netorare version of the game, the story follows Rui in her darkest hour. In this story, she decides to follow her fate instead and cheat on her husband. This leads to many forms of different sexual relationships with multiple men as things spiral out of control for her.
This game was one of the most anticipated premium hentai games of 2022. It has strongly delivered on this promise by creating a very immersive and interesting story where every decision matters! Don't miss one of the best hentai games of the year and discover Rui's deep and darkest secret.
Stealing a Monster Girl Harem
Genre: Visual Novel
Stealing a Monster Girl Harem is a hentai game made for Monster Girls lovers of all kinds. It also contains a very unique story that keeps reinventing itself while you are playing it. The story follows Kozo, a young man living a peaceful and boring life. That is until one day a large army attacks his village and enslaves its residents.
As Kozo attempted to flee, a beautiful but deadly demon girl with purple hair and pointy ears started chasing him. This led the poor man to try to escape using a dark forbidden cave near the village. Through a network of tunnels, an explosion occurs in the cave revealing a new passage. Luckily, it's there that Kozo stumbles upon a magical treasure, deeply hidden in the cave. By opening it, Kozo unlocked the precious master skills of thievery to become the ultimate thief.
With his new power, Kozo manages to steal the heart of the hot demon girl called Mea. Not only this but he manages to seduce her into doing his own bidding. It was at this moment that he decided to begin his quest for vengeance and power. He set his sight on seducing all of the Monster Girl army and taking their virginity at the same time.
Stealing a Monster Girl Harem is a goofy and fun visual novel full of various sexual scenes and hilarious dialogue. Onis, dragon waifu, dark elves, world girls are only some of the girls that you will see in this story. The time for monster girls Harem is now!
Evenicle 2
Genre: RPG
Evenicle 2 is the second game in the critically acclaimed hentai video game series Evenicle. It builds upon the well received game mechanic that Alicesoft created in the first one. The game contains an all-new village with new characters and a very intriguing story. You are invited to a world where a dangerous pandemic has invaded the life of common folks.
When using combat skills to fight, people are infected with a mysterious new disease called the Hero Syndrome. For women, this causes them to have their breasts slowly get bigger and bigger. The only way to lift this treacherous curse is with the help of a special doctor. This chosen individual possessed a very unique healing power: the syringe between his legs.
The story follows Alex, a young man who has the strange ability called "Medica". This ability makes him able to transmit medicine through seminal fluid created in his body. Doing so stops the disease and reverting breasts to their original size. Join him on his journey as Alex steps in to help the girls who are suffering from the Hero Syndrome. Little does he know that by doing so, he will gain a harem of various ladies, each one prettier than the next.
Evenicle is a stunning JRPG with a large cast of characters. Explore the world and meet cute girls who need your help to save them from the Hero Syndrome. Fight and capture monsters through an immersive and unique RPG system that redefines the genre. With a massive intriguing story, tons of references to other Alicesoft titles, this game is a must for hentai fans. It contains more than 70 unique lewd situations featuring Alex and his harem. Evenicles 2 is 100% a top contender for best hentai game of the year.
Trouble Days
Genre: Visual Novel
Trouble Days is a cute hentai visual novel game made by Qureate and published by Medibang Inc. It is set in Akihabara and features beautiful art for a stress-free experience. On a sunny day as you are walking alone, a beautiful succubus named Lovelia appears before you. She explains that succubus are creatures from the demon world who exploit male sexual energy, called technoforce, as daily nourishment.
Although Lovelia is quite beautiful and over a 1000-year-old, this is her first real assignment. As you might have expected because she is so new, she is a little naive when it comes to men. By appearing before you, she is now bound to you and must steal your technoforce to be free. There is only one problem, she doesn't know how to properly steal your technoforce. Now unable to go back to her world until she completes her mission she is stuck in a stalemate. It was on this day that your life changed and you started to cohabit with a cute and quirky succubus.
With illustrations made by AkasaAi, Trouble days has some of the best high quality computer graphics that there is. The light-hearted story gives you access to many choices shaping the ending as you see fit. Each new day being more intriguing than the next, this story will melt your heart! Fall in love with Lovelia and discover what it is like to live with a naive succubus.
Childhood Friends With Benefits
Genre: Action Adventure, Visual Novel
Childhood Friends with Benefits is an interesting visual novel that revolves around how relationships may evolve and change through time. The story focuses on Yukihisa, an ordinary student who doesn't aspire for much in his life. He sits next to his childhood friend Shiho, a beautiful girl with glasses that he has known since forever.
On a sunny day after a date event at their school, Shiho proposes the idea of being a fake couple. Doing so, they could both gain confidence and feel more comfortable with their future proposal. She also suggests that this would include sexual activities to get them ready for the future. Although Yukihisa is stunned, he accepts her proposition and they both begin their strange relationship. Little did they know that this would change them forever!.
Follow their life as both experience sex for the first time and start exploring their adult life. Make decisions along the way and influence the outcome of the story. Collect multiple high quality uncensored art of various fetishes and revisit them in the gallery. Childhood Friends with Benefits is a very fun romance visual novel that leaves nothing to the imagination. With beautiful outcomes and deep storytelling this hentai game is sure to please even novice players!
Custom Order Maid 3D2
Genre: Simulation, Action Adventure, Dating Sim
Custom Order Maid 3D2 is one of the most unique and stunning premium 3D hentai games ever made for many reasons. The game offers a fully customizable experience by creating your own perfect waifus for your Empire Club. So many options are available for you from eye colors, to breast size, clothing and much more! You can also customize your building to your heart's content by adding rooms or changing the layout of your empire. COM3D2 also offers almost every type of sexual activity that exists from the context to the type of practices. All the models displayed in this hentai game are fully in 3D, making the experience even more realistic.
The story focuses on you, the main character, who just inherited a luxurious bar Empire Club from his uncle. This unique establishment features 3 unique customizable maids ready to help their master with anything that he may need! Sounds too good to be true? Little did you know that the club is in terrible financial condition. That is the reason why your uncle left it to you. It's up to you to make the Empire Club a success with your extraordinary maid at your side.
As mentioned previously, Custom Order Maid 3D2 is the full experience when it comes to customization of characters. You can go with the original girl model or create your perfect waifu by using one of the most complete character customization of all time. Not only do the maids can be customized but they also each have a unique special personality. These personalities are based on popular anime tropes featuring popular ones like kuudere, tsundere, etc. Once you have created the maid of your dreams, it's time to jump into the action.
COM3D2 is a simulation mixed with some dating sim elements. During the day boost your maid abilities to cook, dance, sing, through various lessons. If you prefer, make them work all kinds of jobs like chef cook, sommeliers and other interesting work opportunities. With so many options, you are bound to make the club more profitable. At night, this is when the lewd stuff happens. Train you maids to please the customer the way you want to be pleased. Teach them various sexual skills and tricks that will have you looking forward to the next night. This hentai game can even be fully enjoyed in VR.
Through various sexual activities and unique conversation options and choices, you can develop your relationship with your maids. Raise your relationship level and gain access to new sexual content and activities with them. Additionally, Custom Order Maid 3D2 also has multiple downloadable content to add even more content to the base game. Hire new maids with unique personalities, get new options for intercourse, new activities like idol concerts and so much more. Everything to make your experience as an owner of the Empire Club even better! So what are you waiting for? Your maids await your arrival, master!
These were only a few suggestions of popular premium games you can find on the Nutaku platform! If video games are not your thing and you prefer to read hentai, well, don't worry as we also got you. Take a look at our list of most popular adult manga and our list of the best erotic parodies.