Dominatrix Reloaded: A Brief History Of BDSM
05

/

12

/

2022
BDSM was first coined as a term on a UseNet board in the early '90s.
"SO doesn't like BDSM," wrote Quarterhorse in alt.sex.bondage in 1991. "Knows I like it, knows what I do (generally)."
This abbreviation itself has roots in the 1990 book, Apocalypse Culture, where an interview subject laid out the meanings of the terms "S&M," "B&D," and "D&S." These terms are shortenings of, respectively: "sadism and masochism," "bondage and dominance," and "dominance and submission." Taken altogether, then, "BDSM" spells out Bondage, Dominance, Submission, and Masochism!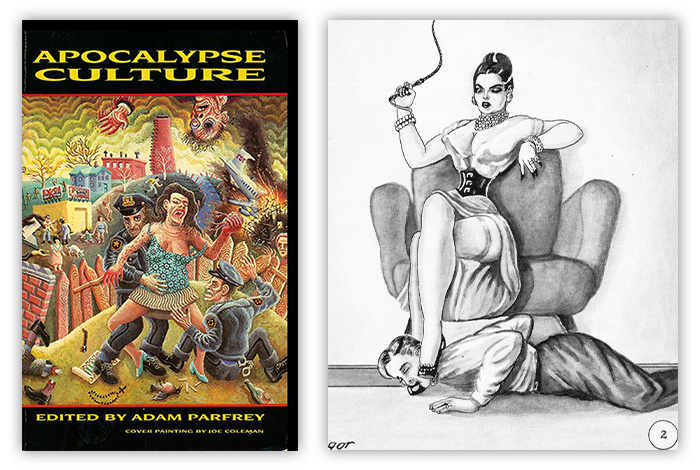 Left, Publication by Adam Parfrey, 1987. Artwork by Joe Coleman,1976. Right, Illustration for Bizarre Honeymoon by Gregor, circa 1950.
Of course, even if the term itself is recent, the practice of BDSM goes back hundreds of years. It's one of the most revered and ancient sex practices, with origins in Mesopotamian culture. Believe it or not, it was actually part of their religious customs! Anne Nomis wrote in her 2013 book, The History & Arts of the Dominatrix, that there were Mesopotamian rituals to the goddess Ishtar which centered BDSM and female dominance. These rituals included massive orgies, cross-dressing, bondage, and all sorts of other kinky play – all in the name of worship. Talk about a Sunday "service"!
BDSM-based belief systems continued throughout history, well into Greek times. Members of the Cult of Dionysus allegedly revered the infamous god of wine and hedonism through elaborate rope and pain play. A house later named the Tomb of the Whipping was discovered in Italy, where a drawing on the wall depicted a woman, lost in the throes of pleasure, being whipped and bound by two men making love to her from both ends.

Left, Wall Painting in the Tomba Della Fustigatione. in Lazio, Italy. Right, Garment Decoration Segmentum with Figures Under an Arcade, 5th century (Late Antique)
(You could consider this some of the first hentai… if you're one of those hedonists that calls all erotic art "hentai," that is!)
But like much of what we understand about modern sex, a lot of what we consider BDSM play is derived from the Kama Sutra. Specific passages make vivid references to impact play, eroticized biting, spanking, whipping, and pinching. Most importantly, these passages reiterate several times how important it is that both parties are willing, enthusiastic, and consenting. Some consider this to be one of the earliest examples of establishing consent in BDSM play, and associated artwork depicts all of these acts in all their kinky glory. Pain and pleasure had been mixing for centuries prior, but the Kama Sutra changed the game when it comes to laying out the rules for how and why we do BDSM.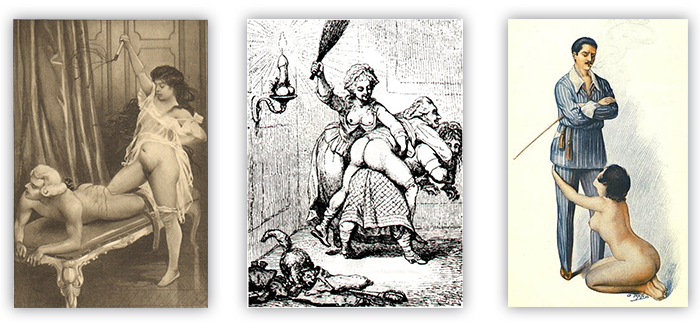 Left, Fanny Hill by Édouard-Henri Avril, 1907. Center, Engraving by Unknown Artist, circa 1780. Right, Le Rêve d'un flagellant by Georges Topfer, 1920.
Over the centuries that followed, other cultures arrived at their own kinky conclusions through art and literature. Britain found catharsis in spanking through seminal works like Fanny Hill, Japan stumbled into corporal shibari as erotic play in their Edo Period, and France had… well, do we really need to say anything more than "Marquis De Sade" – the origin of "sadism" itself? Didn't think so. All around the world, a golden age of kink was emerging, as the repressed desires of every populace began to metastasize in their popular art and social discourse. By the turn of the 20th century, BDSM had become such a prevalent phenomenon behind closed doors that Sigmund Freud had begun to try and diagnose it as a disorder. (You know – the same thing he did to everything that wasn't straight, missionary sex!)
Into the 20th century, BDSM was embraced by artists around the world as alternative and counterculture. Iconic models like Bettie Page broke bold new ground by posing in bondage shoots, and Parisian artists pushed the boundaries of eroticism with a boom in BDSM photography. Once film began to take hold of the global consciousness, another avenue for artists hoping to express forbidden desires became available. From artsy smut like Belle De Jour, to dreamlike fantasies like Girl Slaves of Morgana Le Fay, to the erotic vampire hijinks of Terror At Orgy Castle, brave directors forced filmgoers to confront their kinky fantasies head-on. And thanks largely to the success of Deep Throat, porn had a massive boom in popularity going into the 70s and 80s! With the advent of home video during that period, people suddenly had unprecedented access to pornographic content like never before.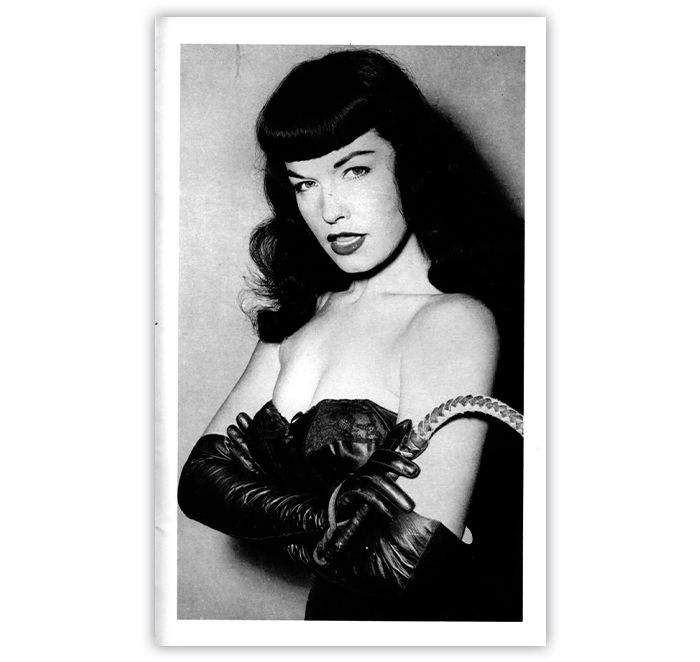 Photograph of Bettie Page as used for a documentary Mark Mori, 2012.
The 1990s, however, is arguably the most important period for our modern understanding of BDSM. Centuries of taboo fantasies, only achievable in underground scenes, erotic fiction, and porn, could now spill out onto the World Wide Web for the very first time. People were able to connect like never before, and suddenly, they began to realize that they weren't so alone in the world. Communities and fetish sites began to emerge around a new, embryonic BDSM culture. Now anybody could get some jute rope, buy a cane, and lay all of their wildest wishes out for the whole world to see.
Not only that, but the increasingly globalist society of '90s meant anybody could consume any kind of BDSM content at any time! Games like Bible Black are a key example of this phenomenon. It's a classic hentai game, and is extremely rooted in traditional Japanese bondage at points. However, much of its narrative and many of its specific fetishes are derived from an exhaustive amount of sources – from British occult horror to French pain play. It's the sort of BDSM art that could only come about in the age of the internet, when the artists had an unparalleled degree of access to decades of film and BDSM communities.
Left, Cover Art for PC Game Bible Black, 2006. Right, Cover Art for PC Game Taimanin Asagi - Battle Arena-, 2014.
These days, BDSM art is ever-present – to the point where it's even invaded mainstream porn. Dominance scenarios and light bondage have begun to enter even some of the most vanilla porn sites, and vast swathes of the doujinshi output these days are elaborate and extreme BDSM scenarios. Hentai games have pushed the boundaries of what's acceptable in high-profile scandals, and feminist pornographers have begun to direct their own transgressive smut that defies taboos. That's to say nothing of sites like FetLife, where BDSM communities get together and celebrate all of the kinky things they like to do themselves and each other. Even popular sites like Twitter have their own dedicated kink communities!
One of the most infamous BDSM titles of all time is available right now on Nutaku for free – Taimanin Asagi: Battle Arena. This hardcore collection game isn't exactly what we'd call "vanilla," but its kinky action – centered around busty ninjas and the bad men they're fighting – is worth checking out for the spectacle alone. The intense power struggles brought out from public humiliation, extreme restraints, and improbable gags are unlike anything else in our store – or anywhere else, really!
If you're interested in BDSM art, you owe it to yourself to check out the 'BDSM' tag on Nutaku. Whether you're a total newbie looking to see what you're into, or a seasoned kinkster with a live-in domme, we've got plenty of Japanese, American, and European BDSM experiences for you to take part in. Take a walk on the wild side!
And remember – every single time you get excited at the idea of chains, whips, flails, and ropes? That's history right there.
---
Icons used in graphics supplied in part by 1516 from NounProject.